⋒ Invitations to Create at Home (every single day) ⋒
Let's talk about invitations to create… simple ones we can implement in our homes that don't require great efforts in set up and clean up that are also age and skill appropriate. What used to be our coffee table from Ikea is now A's art/craft table at home. There's nothing super picturesque about our setup… it's not instagram worthy by a lot of standards but it's our real, unstaged setup. We have a simple tray to hold jars, cups, and repurposed boxes to organize/display different mark making tools, a placemat to catch most extraneous marks, and a big pad of paper that we always have turned to a blank page. Loose work as well, but can get cluttered so we prefer the pad for this purpose.
The tools should be ones your little artist has already mastered, to some degree. Don't put out scissors if your kid doesn't know how to handle them safely. Put out materials you're comfortable leaving with your kid semi-unsupervised. In the beginning, this may just be a set of washable chunky crayons. As they start getting bigger and more comfortable with a larger range of tools, you may be tempted to lay it all out. This can be overwhelming so try to limit it to a few different textures and tasks.
Spark joy: On some mornings before I leave for the studio, I'll pose on of A's dolls dressed in a funny outfit and doodling… a playful invitation to play that is one of the first things she notices when she comes out of her room in the morning. I'll add one more note to keeping it organized, labeled, and well maintained – it teaches little artists to respect the tools they use. They learn that everything has a right place and needs to be cared for – they are learning a great life skill. Nothing stops creativity in its tracks quicker than dried out, crusty materials. Am I right? 🤓 What are some ways you invite your little artists to create?
What's currently on our tray?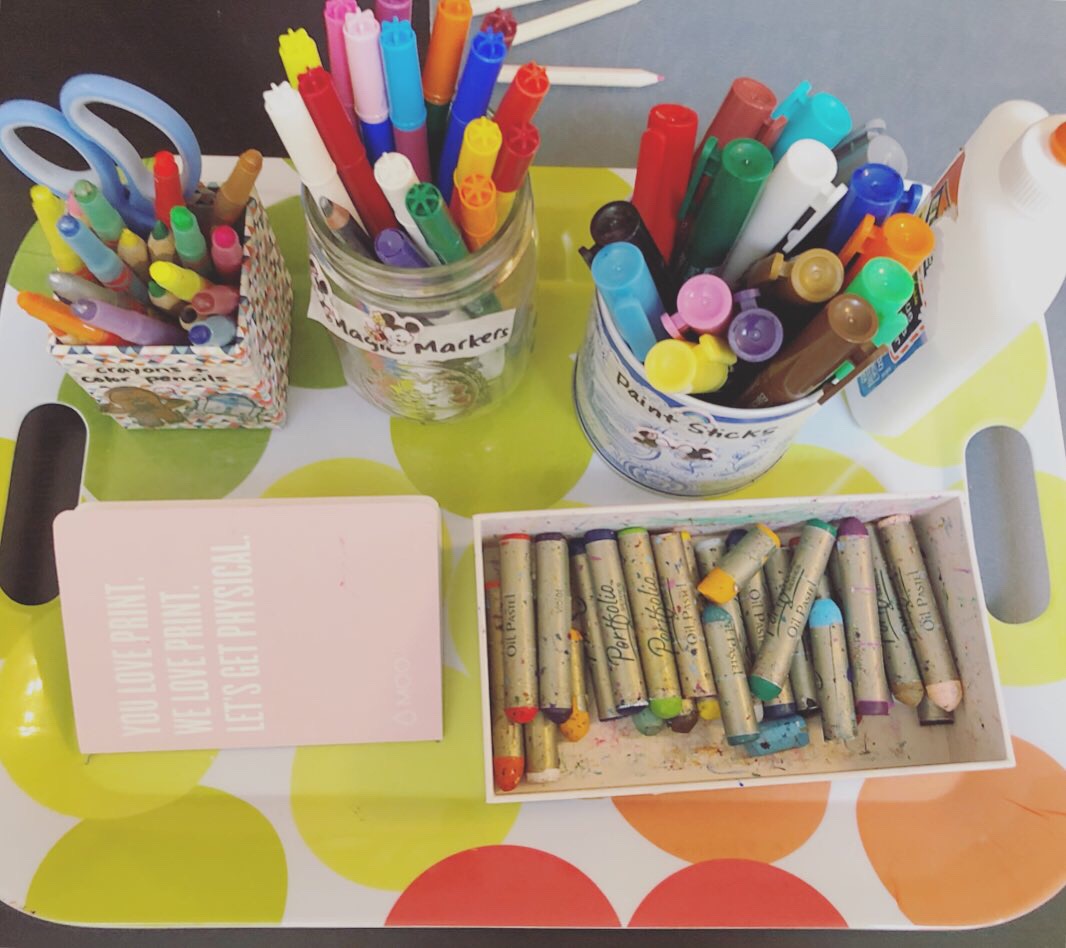 Crayola Twist Crayons
Water-soluble color pencils (always sharpened)
Magic Markers
(1) Drawing Pencil
(1) Dry Erase Marker
Tempera Paint Stick Pens
Oil Pastels
(1) Scizzors
Elmer's Glue
Small grid notebook
One large 11×15 Drawing Pad
creative play
home activities