Our mission is to spark joy and cultivate creative power in little artists through creative play and art explorations.
We are providing LIVE virtual art experiences for budding artists (ages 2+) via ZOOM and we are also building an ever-growing catalog of Art Labs in our Essem Art Vault.
We believe that art is for everyone, everyone is creative, and that engaging in creative practices makes us happier and more confident every single day. Healthy creative practices and creative confidence begin early and at home, so we are providing parents and families with the programming, resources, and quality content to introduce art at home.
Join us for live virtual art session (single sessions and weekly series are available), or join our Essem Art Club for unlimited access to our growing catalog of Art Labs that you can introduce more flexibly. 
Age 2+ | Mon + Fri Mornings 10 AM (every other week) | DROP-IN: $15 · ESSEM INSIDERS: FREE

Our Music + Art series is a live virtual program on ZOOM featuring a fun singalong of classic/original kids music followed by a colorful and engaging art project. The main aim is to help little artists start building creative confidence and develop fine motor skills.

Sign Up!

Age 4+ | Tues (4PM) + Sat (12PM) Every Other Week · Drop-in: $15 · Essem Insiders: FREE

We encourage artists to get creative and use the materials available at home! Together we'll explore contemporary styles of art and creative expression; experimenting in different art styles and various mediums while cultivate creative confidence through open discussions and promoting mindfulness and healthy creative habit.

Sign up!

Monthly Event | Studio MOMS (and friends) invited | DROP-INS $15 · ESSEM INSIDERS: FREE

Monthly evening events for fellow moms to just let loose and create via ZOOM. We'll explore different art and craft mediums and projects for fun, relaxation, and self expression. You can even whip out your kids art supplies. Looking forward to creating with you! (Upcoming Dates: Tues, Feb 2, Mar 2)

Sign Up!
Celebrate special occasions and connect with friends and family with Zoom Art Parties!
*Click to learn more!*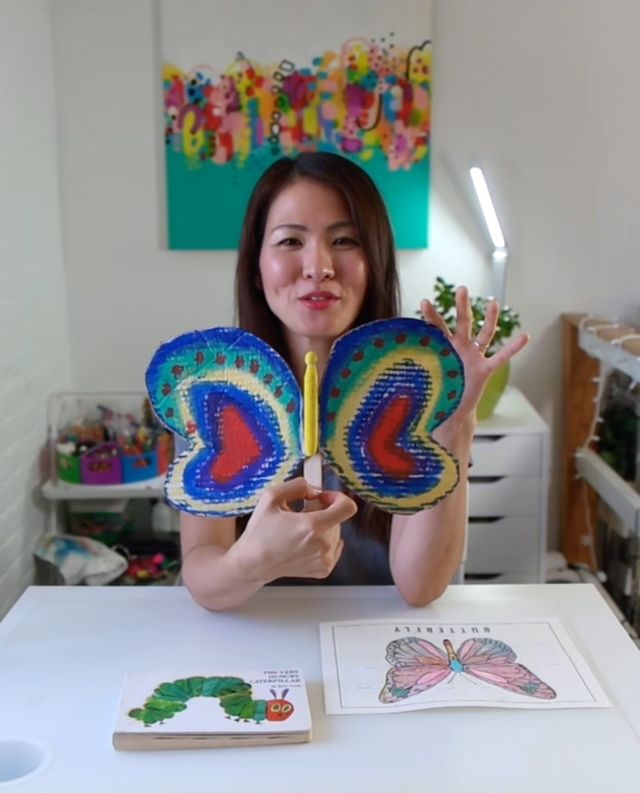 I'm Sophia Moon! It's so lovely to meet you!
I am a multi-passionate creative—abstract artist, writer, musician— and I consider it the highest privilege to create magical experiences for our studio kids and families.
I believe that daily art and creative practices can temper anxious feelings in children, youth, and adults and can create memorable experiences for families to bond over. I also believe that making art should be both accessible and adaptable. To that end, our art lab subscription program is designed for the comfort of your home, using materials you have at your disposal.
It is my great hope that our program will spark joy and creativity in your home.
Light and Love,


Essem Art Studio Music/Art Labs has been such a wonderful part of my children's routine! They both absolutely adore Sophia. I am always so impressed at the concepts she is able to get young children to understand and they are always so proud of their projects! The new virtual art labs and weekly virtual singalong bring us all so much joy. We feel lucky to be a part of the Essem Art family

Barbara S. (studio mom)

I had the virtual art lab all set up for my 3-yr old daughter when she woke up from nap and you should have seen her face when she came down. So so so excited to paint! This provided us at least 45 structured activity that I would NEVER come up with in my own! So awesome ❤️

Emily B. (studio mom)

My daughter loved the virtual class format it was easy to follow. Thank you!

Ariana F. (studio mom)

I like to make rainbow color flowers

-Adela (studio kid)
Have a look at some of the amazing work from our little artists creating from home with our Essem Virtual Art Labs! We love, love, love how our virtual art labs are family/sibling friendly and can be modified for arists of all ages. Join our subscription plan and never run out of ideas for making art at home!
ESSEM INSIDERS enjoy access to our ART VAULT with new art labs and creative prompts added every week!
*We offer a 7-day trial period. You may cancel your subscription at no charge
or your subscription will automatically renew at $39/month.